Every Little Bit Makes a Difference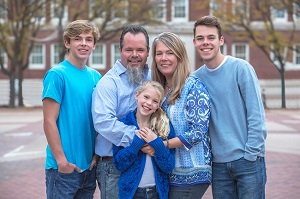 Erica and DJ thought college was a long-shot for their three children. As Erica began to think toward their future, she thought, "Maybe scholarships, maybe trade schools, just maybe!" The thought worried her. Education was an important part of her life – her own and her work in it, but in her income bracket there was little room for anything extra, especially something as expensive as tuition. They'd almost given up hope when a third postcard about Learning Quest's K.I.D.S. Match Grant Program reached her mailbox.
The first and second post cards in the years before had come and gone, sparking interest and then in the business of life, been quickly forgotten. This time, a chart showing income level qualifications caught their attention. Erica and DJ took the postcard to an appointment Erica's parents had with their financial advisor.
The K.I.D.S. Matching Grant Program provides 100% match for contributions up to $600 for families with qualifying income levels; she showed the financial advisor the postcard she'd received. The financial advisor then explained that they could never guarantee 100% return on investment on anything they did with their firm, and that it was truly a good deal. Erica lit up. If she could contribute just $600 a year, the K.I.D.S. Program would double it – pending she continued to qualify for the financial level. And, as more of a reassurance that she was doing the right thing, Learning Quest opened up the ability to use the funds toward any qualifying institution, including trade schools, opening up more possibilities for her family.
Erica's parents made the $600 contribution for the oldest of her two children (in elementary school) that year for their Christmas gifts. The K.I.D.S. Program doubled their investment. A few years later, they opened an account for her youngest. After the first year or two, looking at the small number in the account against the cost of tuition made her feel like their contributions wouldn't be able to make a dent in their childrens' education. It was exasperating. But over the years Erica and DJ continued to watch the yearly investments grow with the match and investment rates. Each year, and almost every year since opening the accounts, the Glassburn family has contributed the minimum amount to get the maximum match - $600 to the Learning Quest accounts.
Now, Erica and DJ's oldest son is finishing up his freshman year at Wichita State University. He received music scholarships, among others for his tuition, and worked very hard to pay for on-campus housing – an experience that he really wanted to participate in. This year, he hasn't yet needed to dip into his Learning Quest account, and they are very proud of him, knowing that it'll be put to good use over the next few years as he finishes his degree.
The others will be thinking about their future soon, with a solid baseline in their Learning Quest accounts to support their dreams. Erica knows it won't be enough to cover full college costs for any of her children, but the amount they've been able to save is much more than she expected – and will be vital to her kids having an opportunity to pursue the future they want, without being tethered to a ton of student debt.