Two College Graduates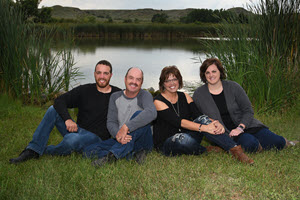 Andrew graduated from Ft. Hays State University in May of 2019 with a Bachelor's degree in Industrial Mathematics. His sister Ashlee, graduated from Kansas State University in 2015 with a Bachelor's degree in Human Resources and Family Services. She currently works at a special needs school and in the foster system as a behavioral interventionist. The ease of working with Kansas's Learning Quest 529 College Savings Plan helped put both Andrew and Ashlee through college to earn their degrees and set them up for career success.
Lewis and Pam don't remember exactly when they opened Learning Quest 529 accounts for their two children Ashlee and Andrew, but they're thrilled that they did.
Pam recalls seeing Learning Quest television commercials years ago about the 529 college savings account and remembers opening an account for each of her children with $50 each. Since opening, Lewis and Pam continued contributing $50 each month to each of the accounts. And some years they were able to qualify for the K.I.D.S. Matching Grant. A small monthly commitment to make a big difference.
Transferring money was easy for Lewis and Pam, and they even got on first-name basis with some of the friendly Learning Quest service specialists when calling to transfer the funds. Pam says they refer many friends to Learning Quest.
Congratulations to both Andrew and Ashlee on their graduations and continued success!