Mowing Their Way to College Savings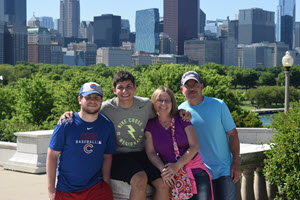 Wayne started Learning Quest 529 accounts for his boys when they were young, and at the same time, started a lawn mowing business for them. His goal, as a parent, was dual purpose. The boys would learn hard work and dedication while simultaneously contributing to their college savings accounts.
As soon as they were able, Wayne would take his boys, Luke and Kaleb, out to find yards to mow. They mowed on weekends, after school and all summer long in Hutchinson, Kansas. Everything the team made that day would be split between Luke and Kaleb. If only one son could mow with him, they'd get the total profits from their hard day's work. Wayne meticulously tracked each day and each yard mowed, and at the end of each month, he would divvy up the money into their Learning Quest 529 accounts.
As Kaleb and Luke got older, they played football for their high school team. Even after school and football practice, they'd come home to mow.
Because of their hard work, Luke earned a Business Management degree from Kansas State University, and Kaleb is working on a degree in Administration. Kaleb, who also worked at Dillon's grocery store in addition to mowing, just recently transferred from a junior college to Ft. Hays University.
Wayne knows that setting up the mowing business, along with the Learning Quest 529 college savings plan accounts, was a good financial lesson, as well as a great life lesson, and he is happy to have set his sons up for future financial and life success.
"[Setting up the Learning Quest accounts] was probably the best financial decision I've ever made, besides buying Nike stock," Wayne jokes. "I'm always telling people about it."