All Doors Open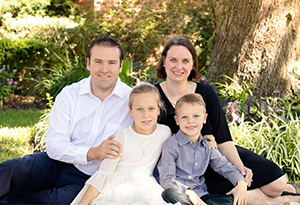 Sonja and her husband Brendan want to keep every door open for their children. That's why, when Sonja's father gifted them money after the birth of their firstborn, Sonja and Brendan decided to open up a 529 plan. Instead of just saving the money for their daughter, Madeleine's, future, they decided to invest in it. Two years later when their son, Maxim, was born and they received another gift from Sonja's father, they did the same for him.
Sonja and Brendon met in graduate school, at Indiana University – Bloomington. Growing up in Germany and obtaining her undergraduate degree in Italy, Sonja and her family didn't have to worry about paying for further education. Her vision changed after moving to the US to pursue her Master's degree. Sonja noticed the cost of graduate school in the United States being expensive, and they've seen how student loan debt can delay important life events and really "taking off" as an adult. They don't want their children to worry about finances when it comes to receiving a good education. Without the worry of paying for an education and student loans, they hope their kids can pursue their dreams and retain independence as adults.
Brendan is a professor at a university, where their family can attend school for free if they wish to apply. When asked, seven-year-old Maxim is considering joining the military, where a free education is also an option. Sonja has also considered that her kids might want to pursue an education in Germany, where she's from, and have the option of a free education that way.
With lots of options on the line, Sonja and Brendan know that life happens, and things change – and they want to leave all options open for their kids. If nine-year-old Madeleine wants to be a veterinarian – hint, she does! – their hope with the 529 plan is to support her throughout her pursuit of her dream! Sonja and Brendan continue to contribute to both Madeleine and Maxim's 529 on a monthly basis, on top of the original gift from their kids' granddad, and Brendan's mom puts a Christmas-time gift toward their future every year as well. The family's investments into 529 Plans for both children is an on-going commitment to both Madeleine and Maxim's future.
"As someone with a master's degree who taught higher education for ten years, and whose husband has a PhD and is still teaching higher education," Sonja evokes. "We know how important education is, and we want to offer that experience and opportunity to our children."