#WhyI529 August Spotlight
Royals contest winner plans for college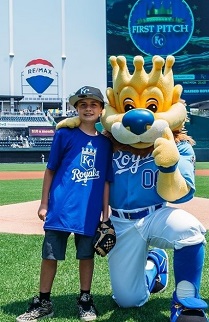 It was a bright, sunny afternoon when the Kansas City Royals completed their sweep of the Minnesota Twins last month. If you're a Royals fan, you probably remember the game when Drew Butera hit an inside-the-park homer to score 3 runs and win the game 5-3. It was the perfect day for baseball and a highlight of the season.
The Blackwell family was there to see it all from suite accommodations and son, Gavin, threw the first pitch as winner of Blue Crew's "Kid of the Game" contest. (Learning Quest is the proud sponsor of Sluggerrr's Blue Crew.)
The family – parents, Kevin and Jessica; daughter, Trista; and Gavin – also received a behind-the-scenes tour of the stadium and $1,529 toward college savings.
"I forgot about entering the contest, so I was completely surprised when I was notified that our family had won. It was an amazing game and opportunity," Kevin says. "We started Learning Quest 529 accounts for each of our children about five years ago because we want to make college a priority. I was the first person in my family to go to college and it was a struggle to pay for it. I had to work my way through college in the trucking industry – dispatching and driving – outside of classes to make ends meet. It was a lot of hustling and long hours. I want my kids to understand the value of hard work, but have a better start on paying for everything."
His advice to other families? Start the conversation with your kids now about the importance of higher education and what it takes to fund it. For most, it will be a hybrid approach of personal college savings, student loans and scholarships. Kevin has already talked with Gavin and Trista about how good grades make a difference and the importance of applying for a variety of scholarships to help offset costs when the time comes.
"Whatever it is that my kids want in life, I hope they can achieve it," Kevin says. "We'll be there to give them a head start on college and support them along the way."