Godparent On Duty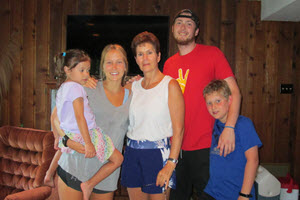 When Karen survived a devastating car accident in the 90's, she knew she had more work left to do in the world. Now a godmother to four family members, she's doing her part to make an impact on the future by contributing to their education savings accounts.
Growing up in a big family with five brothers and four sisters, Karen was thrilled to be named godmother to four of the children in her family. When her oldest godchild was in middle school, Karen's financial advisor spoke with her about how practical the Learning Quest® 529 Education Savings account could be.
Karen paid her way through college on her own – which took five years working part-time. She studied hard and believes her godchildren should work for some of their school on their own as well. But she was thrilled to be able to help contribute to them achieving their college dreams by opening Learning Quest accounts.
Mary, her oldest godchild, is 22 and pursuing her master's degree in Occupational Therapy at Touro University in Nevada. After receiving a soccer scholarship and some academic scholarships for her undergrad degree from Missouri State University, Mary is the only godchild currently using her Learning Quest funds. With her scholarships, as well as over 10 years of Karen's monthly contribution to Mary's Learning Quest account, she is able to pursue an out-of-state post-graduate degree in a career that will help others.
Karen's godson Christian hasn't yet tapped into his Learning Quest account. The flexibility of the 529 accounts has allowed the college savings money to be used for Mary, until Christian decides to pursue further education. The two youngest are Declan (10) and Celia (4), and they aren't quite ready to decide on their college plans. Declan and Celia both had accounts opened for them when they were born, and Karen continues to make the monthly contributions in hopes that can achieve their education dreams in years to come.