Two Bright Futures
When Garry and Jo became proud grandparents to Kaitlyn and Amber, they knew they wanted to help invest in their futures.
This wish prompted them to open a Learning Quest® 529 Education Savings Plan account for each granddaughter.
"We opened an account for Kaitlyn when she was less than a year old," Garry said. "Amber's account was established shortly after she was assigned a social security number."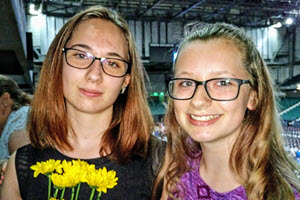 After depositing initial funds into both accounts, Garry took advantage of direct deposit to schedule reoccurring contributions. He also used Upromise®, a free rewards program that deposited a percentage of his spending to both his 529 accounts, to complement his investment strategy.
*Upromise® is an optional service offered by Upromise, Inc., is separate from Learning Quest, and is not affiliated with the State of Kansas. Specific terms and conditions apply. Participating companies, contribution levels and conditions subject to change without notice. Transfers subject to a $25 minimum.
Garry said, "I enjoy knowing that I am putting some extra change into their 529 accounts whenever I use my Upromise® credit card. That's a huge plus to me."
Now after several years of investing in their grandchildren's futures, Garry and Jo's oldest granddaughter Kaitlyn will graduate high school this May. She plans to attend Kansas State University this fall in hopes of becoming a veterinarian someday. A lover of animals, she currently receives hands-on experience as a volunteer at a local vet clinic.
To help finance her college education, Kaitlyn applied and received scholarship funds. She plans to use funds from her Leaning Quest account to pay for room and board as well as for a computer and books. These expenses are qualified 529 withdrawals.
As for Garry and Jo, they plan to continue actively investing in both grandchildren's Learning Quest accounts.
Garry said, "To become a veterinarian, Kaitlyn will have to complete six years of school. Amber has a couple more years before she has to decide what she wants to do next."