A Cheer for Learning Quest!
Marilyn and Larry wasted zero time in planning for the future when they found out they were expecting a baby nearly 20 years ago. Upon the birth of their son Derek, the new parents opened a Learning Quest® 529 Education Savings Plan account.
Marilyn knew about the 529 plan from her human resources job at a Kansas government office, where she still works today. One of her main responsibilities is to prepare welcome packets for new state employees. This packet features information on Learning Quest.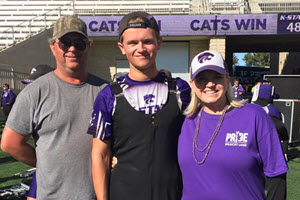 "I've worked for the county for more than 28 years," Marilyn said. "During that time, I've been a huge cheerleader for Learning Quest. I know how flexible the plan is from my own experience. I have always encouraged new employees with children to open an account."
Marilyn and Larry regularly contributed funds to Derek's 529 account using direct deposit. They also placed additional cash into the account whenever they received a tax refund or raise.
Marilyn contacted Learning Quest before Derek started his freshman year in college to ask questions about his 529 plan account. She found the representatives at American Century Investments® who manages the Learning Quest program to be thorough and detailed in their explanations.
"They were very helpful and knowledgeable," Marilyn said. "I appreciate how straight forward they were on what the plan's dollars could be used for."
Today her son is a sophomore at Kansas State University majoring in architecture engineering. In addition to his studies, he's also part of the marching band.