Planning + Discipline = Homerun
You could say a love for sports runs in this family. It starts with Jay, a lifelong sports fan, who's lived out his dream of working in the sports and recreation industry for more than 30 years. His son Jared is now following in his dad's footsteps by recently earning a bachelor's degree in sports management from the University of Kansas.
Although college graduation looked different this year because of the coronavirus pandemic, Jay and Julie couldn't be prouder of their son's recent academic achievement.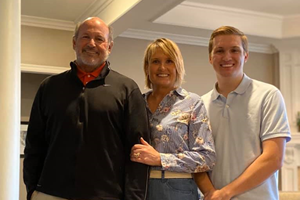 Jay said, "Jared's college experience gave him the opportunity to spread his wings and pursue his passion. We can't wait to see what the future holds for him."
For these proud parents, Jared's college graduation comes after more than 20 years of planning for his future. Following the advice of their financial advisor, they opened a Learning Quest® 529 Plan Account for him shortly after he was born. Jay and Julie routinely contributed in hopes to one day use it for Jared's higher education.
"You don't realize it at the time, but 20 years goes by fast," Jay said. "With a little discipline, we put away money each quarter when we first opened the account. As he got older, we started making more frequent contributions."
Jay and Julie weren't the only ones investing in their son's future. Jared's grandparents became regular contributors after they learned about his 529 account.
When it finally came for Jared to enroll for college, Jay and Julie went to the representatives at American Century Investments who manages the Learning Quest program for help.
Jay said, "We did a little bit of learning on the fly when it came to withdrawing funds from his 529 account. The folks at American Century Investments helped answer my questions and made the process simple."
Jared used his 529 funds to pay for tuition as well as other costs like books and room and board. With leftover funds remaining in his 529 account, he plans to use the balance toward pursuing a master's degree this fall.