Investing early for kids
When Carl sought out to invest in his children's future years ago, he turned to the Learning Quest® 529 Education Savings Program.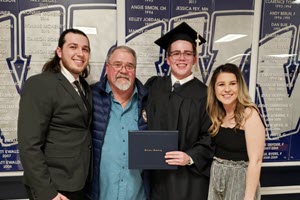 Carl opened up three Learning Quest 529 accounts for his sons Jacob and Matt and daughter Madison before each child started elementary school. He found the representatives at American Century Investments®, the program manager for the Learning Quest 529 plan, to be helpful throughout the whole process.
"I always talked to a real person when I called about Learning Quest," Carl said. "They helped me set up automatic contributions to each account. This made managing each account easy."
Carl continued, "When the kids got a little bit older, I had questions on how to withdraw funds from each account. I'm thankful the Learning Quest team was there to answer my questions."
Carl is now a proud dad to two college graduates. His oldest son, Jacob, will soon finish his master's degree while Matt received his bachelor's degree in December. Both sons used funds from their Learning Quest accounts to pay for tuition and books.
While Madison is deciding what to do next, Carl is happy that she has funds in her Learning Quest account should she decide to attend college or a trade school in the future.