A Grandmother's Dream
Access to higher education has always been important to Guadalupe and her husband, Michael.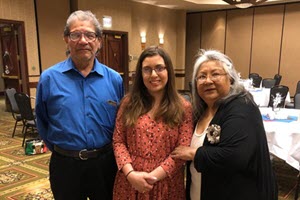 Both of their children attended Washburn University and graduated debt free. Their daughter used funds from the GI bill to pay tuition whereas their son received scholarships and used savings. When Guadalupe and Michael became grandparents, they decided to actively invest in all three of their granddaughters' futures.
"My husband and I came from poor families," Guadalupe said. "We wanted more opportunities for our children and grandchildren than we had. To us, education is the only way to do that."
As an employee of the state of Kansas, she was familiar with the Learning Quest® 529 Education Savings Program.
After opening 529 accounts for each of her granddaughters, Guadalupe began investing $50 a month to all three accounts. Whenever she received a raise, she invested additional funds as well. By the time her grandchildren neared high school graduation, she was contributing $100 a month to each account.
When each of her granddaughters graduated from high school, she presented them with a card that included the current balance of their Learning Quest account.
Guadalupe said, "Their parents knew that we were putting money aside for the girls as part of their overall college savings plan. But of course, the girls being just kids, didn't realize it. They were so thankful. The oldest one cried."
Their oldest grandchild, Elaina, is now a graduate of Washburn Tech and currently works at Mars Chocolate North America in Topeka. Katja is a freshman attending Washburn University and Annalise is taking a break to decide what she wants to pursue next.
"I'm very proud of all three of my girls," Guadalupe said. "I can't wait to see what the future holds for them."