Long Time Savings
Kathrine and John always knew they wanted to give their son, Benjamin, every opportunity to get a quality education. They were so glad when they heard about the Learning Quest® 529 Education Savings Program.
They learned about the program from their financial advisor. When Benjamin was born, they opened up his account and have contributed to it ever since. Every year, they invested as much as they could to the account.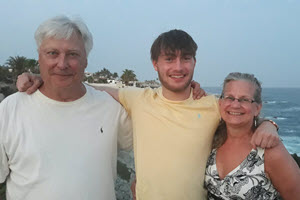 Kathrine and John both value the importance of getting a college degree.
"Education is a big part of our lives. My husband was the first in his family to go to college whereas my family had a history of going to college. We came from very different backgrounds, but we both felt it was very important to have [college] available for our son."
Benjamin is now a junior at the University of Kansas and plans to graduate in 2022. During his time at KU, Kathrine has used his 529 account for tuition, books and housing expenses.
"If this is something you even begin to imagine for your children, you've just got to start right away," Kathrine said. "As soon as they are born. I am just so glad we did this."
However, Benjamin's education plans won't stop after receiving his undergraduate degree. Once he graduates, he hopes to further his education by attending medical school. Kathrine and John continue to contribute to his Learning Quest® 529 account and is planning to use those funds when Benjamin enters his next chapter of schooling.